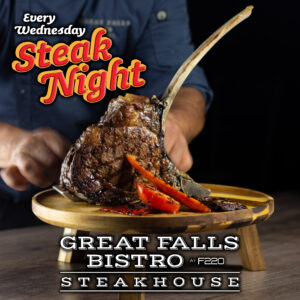 Great Falls Bistro is now offering Steak Night specials every Wednesday and Date Night specials every Thursday.
The first Steak Night kicked off with a complimentary glass of wine when ordering any steak. Other specials include complimentary sides, an "upgrade" to to the 40oz Rib Eye and discounted meal offerings.
Date Night launched on November 14 with a "Buy a drink and your date gets a complimentary drink on the house" special. Other specials will be announced regularly on social media, in emails and on the events calendar.
To sign up for the email newsletter, drop us a note in the "Contact Us," link.